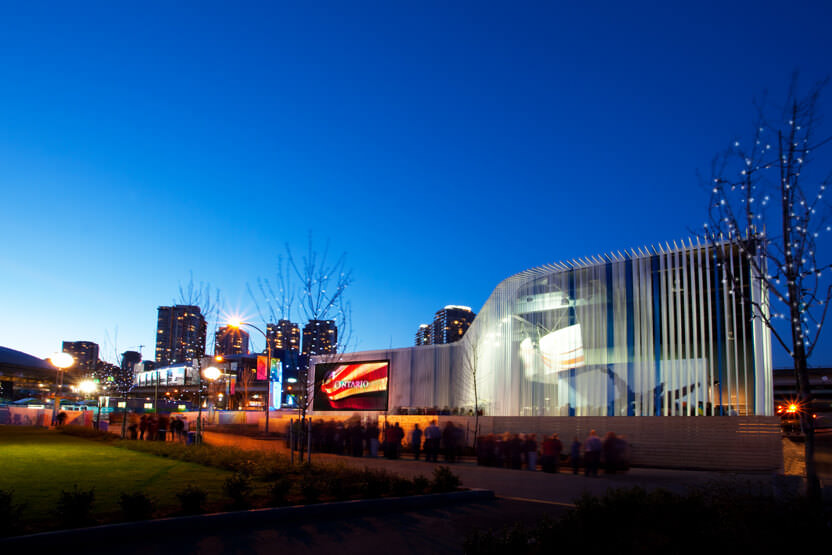 Ontario House Vancouver 2010 Winter Olympics
About The Project
Project: Ontario House Vancouver 2010 Winter Olympics
Date: February 2010
Client: Government of Ontario Ministry of Tourism
Challenge: Event Production, Operations & Management
Infinite initiated work on this challenging multimedia project in February 2009, assembling a diverse team to design, build and implement a full-scale plan for all Production, Operations and Talent Management. The event's schedule ran 17 days from February 12 – 28, 2010, coinciding with Vancouver's 2010 Olympics. Our multimedia solution was a total package that met all our client's parameters — from extensive pre-production and scheduling to addressing a wide range of day-to-day challenges.
Working with our internal team, we developed a Perimeter Show that played continuously in HD on up to eight large screens plus a massive exterior LED wall. We designed and built a Media Content Delivery System exclusively for this project. Our team also created multi-faceted lighting designs specifically coordinated with the wide variety of entertainment featured at the pavilion's Main Hall. These transitions were tailored specifically to the diverse range of talent, which included cultural entertainment (Caribana, Aboriginal Experience, etc.), celebrity chefs (Jamie Kennedy, Anna Olson, etc.) and renowned athletes (Wayne Gretzky, Mike Weir, etc.), as well as a variety of live bands performing each evening.
Our lead audio engineer designed and developed a multi-purpose system to address the diversity of each day's transitions with minimal resets and optimal sound delivery. This portion of the project was so successful that Light & Sound America magazine created a feature article about it in their March 2010 issue.
Working with our Video Editor, we pre-built hours of key HD media content that was played 12 hours per day throughout the Olympics. As well, a Media Edit Suite was created on-site, allowing us to take daily video footage shot in Ontario House, edit it and add this fresh content seamlessly to the playlist as the Games progressed. The daily addition of this timely new video was very well-received by both our client and the public.
Overall, the breadth and scope of this project was an exciting challenge for our team, combining a unique mix of extensive pre-planning with the day-to-day challenge of delivering fresh content and meeting the live demands of on-site concerts and shows.